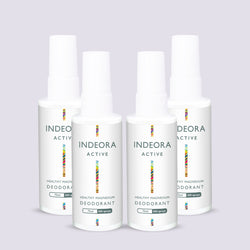 **NEW** Indeora ACTIVE Magnesium Deodorant - Free Shipping
Uplift your post workout routine with ** NEW ** Indeora Active. 
Kill odour naturally and effectively with our unique magnesium formula for up to 24 Hour natural odour protection.
Fragranced with a light woody and citrus blend of sandalwood and bergamot, this gender neutral fragrance will leave you feeling fresh and uplifted. 
Co- Formulated By Doctor
0%: Aluminium including Potassium Alum, Aerosol gases/propellants, Baking Soda, Sulfates & Synthetic Fragrances.

Benefits  of Indeora Healthy Magnesium Deodorant for your underarm care.
100% Natural Ingredients
Dries Clear on Skin & Does Not Clog Pores
Does Not Stain Clothing
Easy Breathe Mist Application
Vegan & Cruelty Free
Unisex Formula
ALSO AVAILABLE IN MULTIPACKS